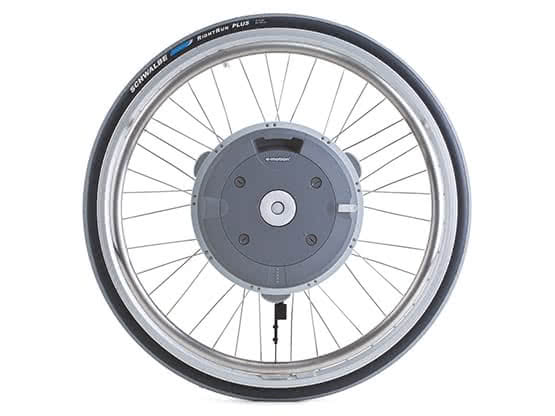 Drive wheel
22 x 1" or 24 x 1" pneumatic tires with puncture-protected inlay
The drive wheel can be attached in any position
Motor and battery integrated in the wheel hub
Quick-release mechanism to attach or remove the drive wheel
Depending on the model, the wheelchair with e-motion becomes 2-4 cm wider
Push rims: Brushed stainless steel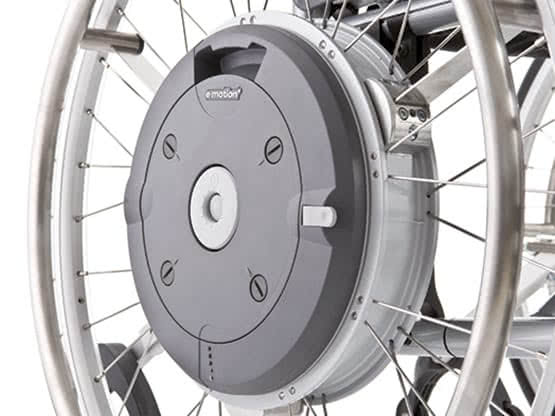 Battery pack
Range up to 25 km based on ISO 7176-4
Long life thanks to lithium-ion technology
Low weight
Can be removed in only a few steps
Approved for transport in aircrafts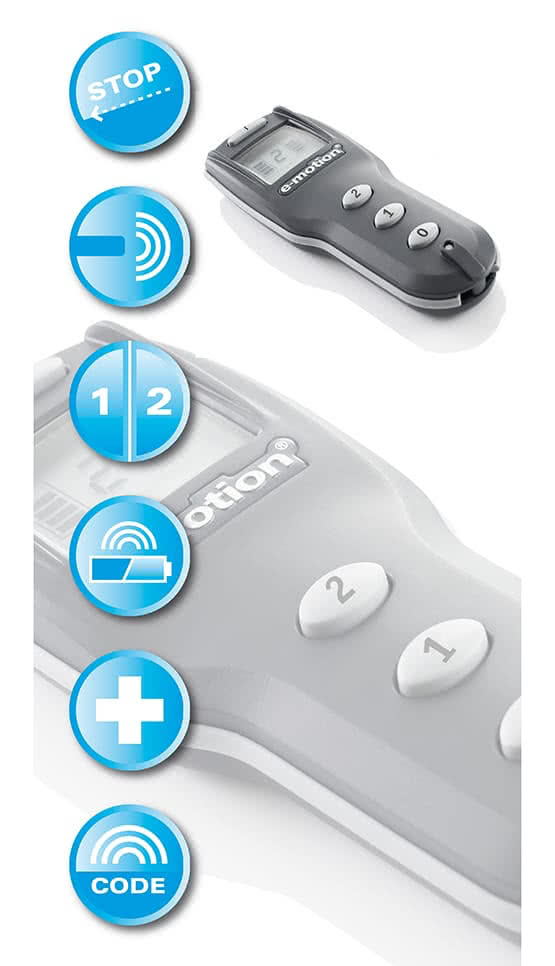 Ergonomic Control System (ECS) optional
Roll-back delay
On slopes the e-motion wheels prevent rolling back for 5 seconds and provide enough time for the user to prepare for the next push.
Function can only be activated via ECS.

Remote control
Large buttons, easy to operate with little force
On/Off, assistance level, info button to display status information

Two assistance levels
Two independent sets of driving modes with individual adjustment of parameters. Programing can only be carried out by specialist dealer or therapist.

Battery status information
Display the battery status of both e-motion wheels while sitting in the wheelchair

Self diagnosis
Display of service and error diagnosis information

Encoded wireless transmission
Not affected by interference signals, doesn't interfere with other electric devices
Secure signal transmission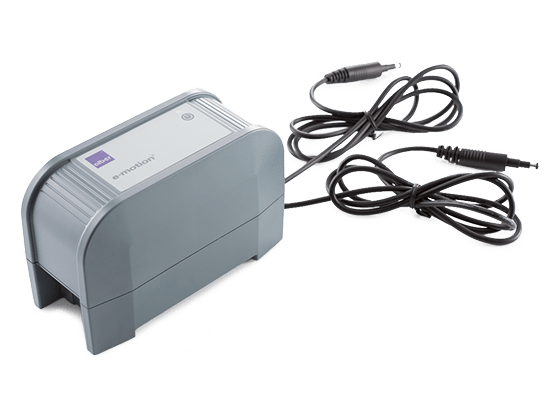 Automatic battery charger
Automatic adaptation to mains voltage (100–240 V)
Removable power cable
Charging with automatic shut-off function
State of charge is displayed using LEDs on the e-motion wheel
Charging time approx. 6 hours
Weight of individual parts
M15
Drive wheel (including battery)
M15
Share e-motion
Use e-mail, Facebook etc. to tell your friends and family about the e-motion.