Here's how it works: e-fix in simple terms
By calling the video you agree that your data will be transmitted to YouTube and that you have read the privacy policy.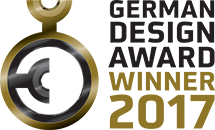 NEW: Sticker Set "Kids"
The brand-new sticker set for e-fix or Esprit Action is now available.
A sticker set includes sticker sheets for the control unit and the spoke protector in the three different designs "dino", "lama" and cool "sayings". With the sticker sheets our users can create their own individual, colourful looking e-fix.
More information
BROCHURES AND DOCUMENTS
Discover in the brochure an overview of features, accessories and benefits of the e-fix - download, print and share now!
The downloads also contain additional documents such as user manuals and quick guides.
e-fix brochures
e-fix user manuals
Control unit
The modern, flat design of the control unit offers simple operation and perfect ergonomics.


TFT color display showing capacity and range
Speed selection (0.5 – 6 km/h)
On/Off button, horn and spotlight
Removable handrest
Other adjustment options for individual adaptation via programmable parameters
Battery pack
The lightweight and small powerhouse – extremely compact, can be removed in a flash.
Efficient lithium-ion cells for a long life
Range of up to 16 km with 5.85 Ah battery pack (depending on ground surface, weight of the person, temperature, wheelchair settings and terrain)
Easy to take out and put back in again
Weight: just 2.1 kg
Integrated carrying handle
Optional: 7.5 Ah battery pack with range of up to 20 km (standard with E36 version)
The battery pack can be charged when fitted on the wheelchair or when removed
Socket for control unit and battery charger plugs: Automatic contacting using magnet (EasyConnex)
24-month guarantee
Battery holder
The battery holder is the smart interface between the battery pack and two drive wheels.
Insert battery and snap in with a "click"
Automatic battery pack contacting
Fixed using Velcro straps
Optional fastening via battery box
With integrated fuses
E35/E36 drive wheel
Motor, brake, gear and coupling have been integrated in the drive wheel in the wheel hub. This allows the wheels to be easily fitted and removed without any tools.


Available in various wheel sizes
Manual wheels can be converted to ½" stub axle for a surcharge
Simply uncouple e-fix wheels for manual operation
e-fix increases the width of the wheelchair by approx. 2–5 cm
Weight of the person of up to 120 kg
Wheel size: 22" or 24", puncture-proof
Weight of the person of up to 160 kg
Wheel size: 24", puncture-protected
Automatic battery charger
It's the details that make the difference when it comes to chargers, so the contacting to the battery has been provided with an intuitive magnetic plug system, which snaps in easily when plugged.
 
EasyConnex
Electronic automatic charge and switch off mechanism
Automatic adaptation to mains voltage (100 – 240 V)
Weight of individual parts
E35
E36
Total weight of all components:
E35
E36
e-fix Mobility App
The smart assistant on the go.
Did you know there's a quick way to check the remaining capacity of your e-fix battery pack* – and see what distance you can still cover? Simply launch the Mobility App on your smartphone and see all the information you need, at a glance. The Mobility App also comes with useful everyday tips for your e-fix.
The app at a glance:
Guide:
- Quick Start
- Error code information with suggested solutions
- Dealer locater worldwide
Cockpit:
- Display of remaining capacity and range
- Tour computer
- Record a driven distance
Speed
Increase power assist from 6 km/h to 8 km/h 1)
New dynamic experience with the e-fix
Remote drive
Remote drive of the unoccupied wheelchair via smartphone e.g. for use with car loading systems or to park the wheelchair.
Controlled with the built-in inclination sensor of the smartphone or with a virtual joystick.
Phone
Notification of incoming calls, text messages or WhatsApp messages appears on display 2)
Display duration of the short info variable adjustable between 3 and 60 seconds 2)
1) Observe the country-specific laws and regulations.

2) Only possible with Android smartphones.