SPEED UP YOUR LIFE
A perfect mix of sporty-elegant design and perfect ergonomics: the e-pilot from Alber convinces. It turns your wheelchair into a sporty vehicle in seconds - the dynamic combination for everyday use. This eliminates the annoying search for a parking space and the tedious transfer into and out of the car. The powerful fork, the battery pack integrated in the frame and the powerful drive wheel combine sporty design and sophisticated ergonomics perfectly.
The e-pilot in detail
Learn more about the strengths and elements of the e-pilot: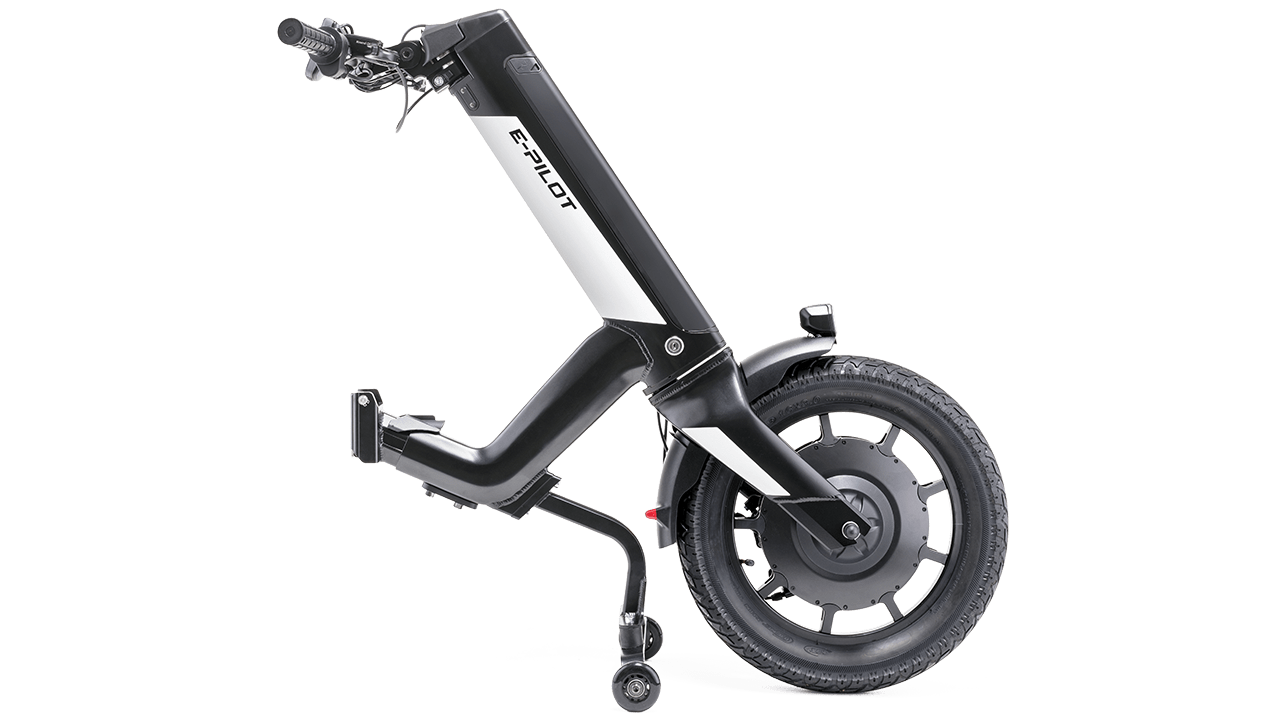 Colour display with indication of battery capacity, speed and tour data
throttle grip for intuitive speed settings
Shapely integrated, removable battery pack for up to 50 km range
Innovative hydroforming aluminium frame
Noiseless and efficient direct drive with balloon tyres for good suspension
Here's how it works: e-pilot in simple terms:
By calling the video you agree that your data will be transmitted to YouTube and that you have read the privacy policy.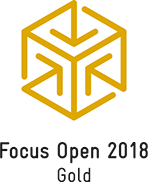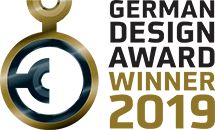 Now with Tetra-Brake
The new Tetra-Brake for the e-pilot is an operating option specially developed for tetraplegics with limited finger and hand function. The Tretra brake is suitable for tetraplegics with slight to moderate limitations. You can find all further information here.
e-pilot fits your wheelchair:
The flexible mounting system of the e-pilot allows the combination with a variety of wheelchairs.
Get even more out of e-pilot
The special Smartphone App and the optionally available Mobility Plus package can be used to expand the capabilities of e-pilot. You get access to a wheelchair-accessible navigation function and a speed extension up to 20 km/h. The cruise control rounds off the experience of relaxed driving even on longer distances.
In addition, the Mobility App contains valuable tips and tricks for everyday use of your e-pilot.
BROCHURES AND DOCUMENTS
Discover in the brochure an overview of features, accessories and benefits of the e-pilot - download, print and share now!
The downloads also contain additional documents such as user manuals and quick guides.
e-pilot brochures
e-pilot user manuals
Drive unit
Innovative and elegant hydroforming aluminum frame
Integrated battery holder with lock
Cables and wires in the frame
Button for ON/OFF, Menu, Speed selection/Reverse gear, Tour data
Button for horn and light
Brake lever left and right, hydraulic
Stand with patented swivelling function for easily overcoming obstacles
USB socket for charging a smartphone
Basic colour black, design colour white silk matt
Traffic approved lighting
Drive wheel
Gearless motor, therefore noiseless, and maintenance free
Motor with 250 watts (constant) and 650 W (peak)
Disc brake 203 mm with two hydraulic calipers
Balloon pneumatic tires 16"
Preselection of maximum speed in 4 steps, reverse gear
Battery pack
Auto contacting, quick-release battery pack
Range up to 50 km (depending on the ground surface, the weight of the user, temperature, wheelchair settings and terrain)
Weight: only 2.9 kg
Battery can be charged in the installed or removed state
Optionally available spare battery pack for even more range
Display
Easy to remove and attach by twist-lock
TFT full colour display with indicator for speed, battery capacity, drive mode, driving mode and tour data
Language selection, traction control ON/OFF and system information via menu
Automatic battery-charger
Electronic charging and switch-off mechanism
Charging time of an empty battery approx. 4 hours
* Colours shown may differ from the original due to printing deviations.
e-pilot is CE-compliant according to the European Medical Devices Directive (MDR) 2017/745 and is tested and certified on a voluntary basis by the TÜV Süd, in line with the currently valid edition of the product standard EN 12184.
The e-pilot mobility app
The smart helper on the go.
Launch the Mobility App on your smartphone and have access to a lot of information at a glance. In addition, the Mobility App contains valuable tips and tricks for everyday life with your e-pilot.
Guide:
Brief operation instructions
Error information with solution suggestions
List of specialist dealers worldwide
Cockpit:*
Showing the remaining capacity and range
Tour computer
Recording of a travelled distance
* All that is required is an Internet-enabled smartphone with Bluetooth
Mobility Plus Package: Clever additional functions
The optionally available Mobility Plus Package gets you to your destination faster and makes driving a real pleasure. Thanks to the combination of Mobility App and smartphone, you get access to a wheelchair-accessible navigation function and a speed increase to 20 km/h. Also included in the package: the cruise control function for even more relaxation on longer journeys.
The Mobility Plus Package is activated for Android with a license code, which is included in the Mobility Plus Package with operating instructions. The purchase price for the Mobility Plus Package for Android is EUR 390.00 incl. VAT (based on German price, prices may slightly differ from country to country). For iOS devices, the functions are unlocked via in-app purchases for EUR 399.99 incl. VAT (based on German price, prices may slightly differ from country to country).
CRUISE
Maintaining a set speed
Easily adjustable in 1 km/h steps
iOS in-app-purchase: 119,99 € *
PHONE
Call and SMS notes on the display*
* Only with Android.